I decided to make some top tens cause I love to read them on other blogs, and I also discovered too
lot of movies/songs/etc. from there, so I hope you'll enjoy:)
Top 10:
-actresses (tv series/movies)
-actors(tv series/movies)
Let's begin with the ladies:D
Top 10 actresses from Tv series
First of all, I saw this tag on lot of blogs lately, and I saw lot of similarities with my preferences:D But..I didn't know what criterias were the girls using..so I'll choose my faves because I like their character, or personality, or looks:)
10. Margot Robbie as Laura Cameron
[ Pan Am ]
I like her personality and style in Pan Am..in fact, I'm in love with that show!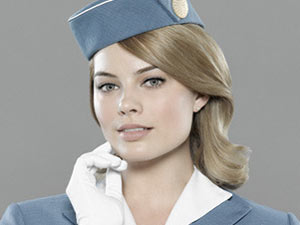 9. Kim Cattrall as Samantha Jones
[ Sex & The City ]
It's one of my fave shows ever, it's so funny, I really laughed a LOT, especially with all the crazy things Samantha did.
8. Julianna Margulies as Alicia Florrick
[ The Good Wife ]
I saw this shows' commercial on TV, but never actually watched it, since a few weeks ago, when I started watching it, and I must say: I like it! When I was a kiddo, I saw her in ER, and I always thought she was so beautiful..and even if this was a few years back, Julianna is still a beauty, and her pokerface in this series is killing me:D
7. Rachel Bilson as Zoe Hart
[ Hart of Dixie ]
It's a new show just as Pan Am, and I love Rachels' style, personality, everyhing in this show:) Especially that town: is so 50's..aww:)
6. Leighton Meester as Blair Waldorf
[ Gossip Girl ]
Sometimes I feel she's me on the screen.
5. Chandra Wilson as Miranda Bailey
[ Grey's Anatomy ]
She's awesome! The way she talks, the way she acts, she's hilarious, she is a real woman:D
5. Ellen Pompeo as Meredith Grey
[ Grey's Anatomy ]
I don't think I have to talk a lot about her:) When I first saw this series I thoguht: "Oh great! That's an awesome show, how could I missed it?" And then: "Oh God, her voice is just so annoying!!" But now I soo love her voice, they way she handles things and the facts she's saying in the beginning and ending of every episode, they're so true.
4. Nina Dobrev as Elena Gilbert / Katerina Petrova
I red a lot of things about the actors but I never saw a single episode..cause it was soo popular. And when something,a movie, or a tv show it's this popular, it makes me think it's just not that good. I know, I know, I think somehow backwards.. But this summer I was curious, so I started watching TVD, and it was awesome, of course.
I mainly watched it for the cute vampire [can you guess which one?:D], but now things are so messed up, I'm curious what's next:)
As for Nina, she's gorgeous, and I absolutely love her sexy voice and especially like her when she's Katerina(love this name too:)
2. Kaya Scodelario as Effy Stonem
[ SKINS ]
If you haven't seen this show already, you should. It's true that it's more a teen show, but I found it so great. Oh, and the british version, of course; it's so great to see something different, not american.
Kaya was my favourite from all 5 seasons, she was so mysterious, and beautiful and awesome!
1. Sandra Oh as Christina Yang
I can't really say she's number 1, cause from number 5, they are all on the same place in my heart:)
But Sandra as the fearless and no-feelings-Christina is just so amazing, I adore her!
I mean she seems so strong, but she's just a broken woman too, she's great and special!
And yet again: that pokerface xD
So these are my fave actresses/characters right now, but there are a lot more, of course,and to end this top, here's something I learnt from Dr. Yang:
(it's working!)
P.S: sorry for the bad English **